holy update
so here are my first few pictures in my project to take at least one great picture a day. i'm pretty happy with them, but think i'm cheating a little bit since playing around with almost any setting on the hipstamatic app makes anything look awesome. and i've not brought out the nikon yet, but i'll be doing so this week. and i've also noticed that it is impossible for me to take a moment to post every single day, so i'll be posting as often as i can, at least every few days – but i'll try to have images from every day.
on thursday, renae and i took the kids to green light studio to play. this place is great for kids and moms. it has a really nice little cafe area, with delicious homemade foods. and the play area for the kids is nice and open so moms can relax and enjoy some free time, but always keep an eye on the kiddos. ella and serenity spent a lot of time playing dress up which i really enjoyed taking pictures of. here are my 2 favorites of those. after that we took the kids back to play at renae's house for a bit. they played in the street and brought us flowers. which is my other favorite picture from thursday.
on friday i snapped a very crooked picture of our yard. but i like it.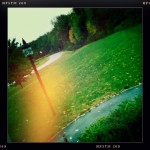 on saturday, my mom and i stopped into a really cute shop in casco that had tons of awesome crafts and home decor. trying to focus on light, i snapped these few pictures of some of the window decorations.
i'm starting to enjoy cooking on sunday's. i made a tortilla soup for the crockpot and used up our apples in an apple crisp. yummy! we also went out and got some pumpkins and mums for the yard!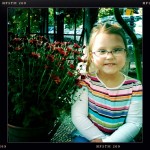 today, we went shopping for ella's birthday, which is this weekend. i can't believe i have a 4 year old! i haven't been out with my camera yet so i'm not sure what today holds as far as photo opportunity! we shall see. if nothing, here is a picture of my cute little bean before school today! photographically, nothing special tho. just a snapshot. :)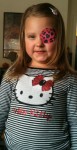 ps – the single images are supposed to be aligned in the center, but it doesn't appear to be working. it took me days to find a gallery plug in that i liked… and now it doesn't do certain things. argggg!